Bibliography of Whipping
As with everything else in ropemaking, there are many ways to get things done. And for every method, there are people who think their way is the only way. One place feelings run hot is the direction you wrap the yarn when you are whipping the end of a rope.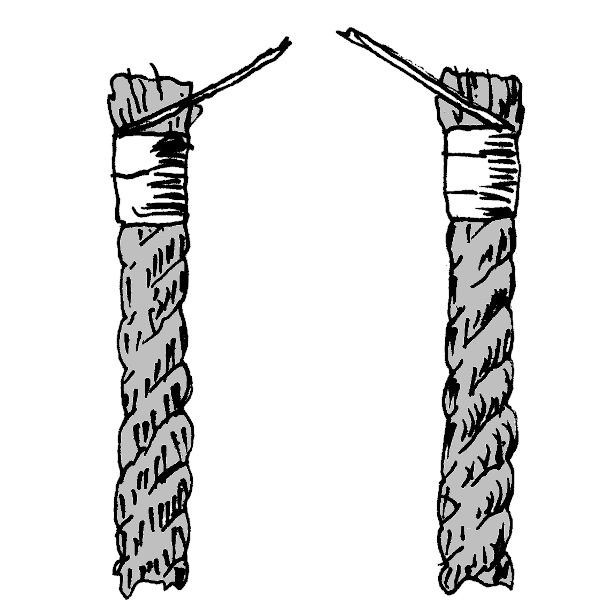 Figure 1: Direction of Whipping.
(Left) With the Lay.
(Right) Against the Lay.
The list below are a few authorities you can consult, then try whipping with and against the lay, and form your own opinion.
In this very brief survey, taking all of one afternoon, I found 8 sources that seemed to have some standing that endorse whipping with the lay. Either in words or the accompanying illustrations. Compare that to the 13 sources that say you should wrap against the lay.
It is interesting that the U. S. Army publications come down on both sides of the issue, as do the Boy Scouts.
It isn't a regional thing, since the people at the Volunteer Marine Rescue New South Wales are with-the-lay but the Natural Disasters Organization folks are against-the-lay. Despite both groups being from Australia.
With the Lay

Army, Department of the (July 2012)
TM 3-34.86 Rigging Techniques, Procedures, and Applications
Accessed 19 January 2022 from
https://armypubs.army.mil/epubs/DR_pubs/DR_a/pdf/web/tm3_34x86.pdf


Army, Department of the (October 1968)
TM 5-725 Rigging.
Accessed 21 July 2021 from
http://www.jatonkam35s.com/DeuceTechnicalManuals/Tm5-725-Rigging.pdf


Blauser, I. P. (November 1925)
Practical Uses of Rope on the Farm
University of Illinois Agricultural College and Experiment Station
Accessed 19 January 2022 from
https://www.ideals.illinois.edu/bitstream/handle/2142/30505/1056184_opt.pdf?sequence=2


BoatUSA (January 2016)
Whipping Line
Accessed 19 January 2022 from
https://www.boatus.com/expert-advice/expert-advice-archive/2016/january/whipping-line


Hutchison, Patrick (23 July 2020)
How to Fuse and Whip Rope
Art of Manliness
Accessed 19 January 2022 from
https://www.artofmanliness.com/skills/how-to/how-to-fuse-and-whip-rope/


Marino, Emiliano (1994)
The Sailmaker's Apprentice
Hardcopy
International Marine
ISBN 0-07-1376429


Scout Life (2019)
How to Whip and Fuse the Ends of Rope
Accessed 19 January 2022 from
https://scoutlife.org/outdoors/164973/how-to-whip-and-fuse-the-ends-of-rope/


Volunteer Marine Rescue New South Wales
Common Whipping
Accessed 19 January 2022 from
https://vmrcc.org.au/boating-safety/common-knots/common-whipping/
Against the Lay

Army, Department of the (1 December 1999)
FM 55-501 MARINE CREWMAN'S HANDBOOK
Accessed 19 January 2022 from
https://www.globalsecurity.org/military/library/policy/army/fm/55-501/chap12.htm


Ashley, Clifford (1944)
The Ashley Book Of Knots
Accessed 02 June 2020 from
https://archive.org/details/TheAshleyBookOfKnots/page/n4/mode/2up


Bisbee, J. et al. (1 April 1995)
Sailing and the Tech Dinghy
Massachusetts Institute of Technology
Accessed 19 January 2022 from
http://sailing.mit.edu/lts/sailing-booklet/booklet_unified.shtml#whipping-splicing


Boats.com (25 August 2000)
Splicing and Whipping
Accessed 19 January 2022 from
https://www.boats.com/splicing-and-whipping/


Boy Scouts of America (2016)
Whipping Further Information
Accessed 19 January 2022 from
https://troopresources.scouting.org/whipping-further-information/


Budworth, Geoffrey (1999)
Knots & Ropework, The Ultimate Encyclopedia of
Hardcopy
ISBN 1-84309-138-0


Deck-Officer, The On-line Study Guide
Rope Work
Accessed 19 January 2022 from
http://www.deck-officer.info/subjects/ropework.htm?reload_coolmenus


Findley, Gerald L. (1999)
Whipping
Accessed 19 January 2022 from
https://ropeworks.biz/reader/whipping.pdf


Luce, Commodore S. B. (1891)
Textbook of Seamanship
Accessed 19 January 2022 from
https://www.hnsa.org/manuals-documents/age-of-sail/textbook-of-seamanship/knotting-and-splicing/


Natural Disasters Organization (1988)
Disaster Rescue - Australian Emergency Manual
Accessed 19 January 2022 from
http://www.nzdl.org/cgi-bin/library?e=d-00000-00---off-0aedl--00-0----0-10-0---0---0direct-10---4-------0-1l--11-en-50---20-about---00-0-1-00-0--4----0-0-11-10-0utfZz-8-00&cl=CL1.1&d=HASH01df7e8d840f67b4d60dc01b.7.11&gt=2


Small Boats Magazine (2 December 2019)
Admiralty Whipping
Accessed 19 January 2022 from
https://youtu.be/L5pz7TD5uP4


Smith, Hervey Garret (1960)
The Marlinespike Sailor
Hardcopy
ISBN 978-0-07-059218-6


Toss, Brion (1997)
Rigger's Apprentice, The Complete
Hardcopy
ISBN 978-0-07-064840-1